Samsung
's much expected Galaxy S5 flagship, which is all set to see the light of sun at MWC 2014 in Barcelona on Monday, might have been leaked in its full beauty ahead of its official introduction.
A Hardware Zone forum member named OKCATYEON has supposedly clicked a bunch of live images of the Galaxy S5. The alleged leaked images show the Samsung Galaxy S5 in its full fame, and specify the device will feature a ridged silver-coloured lining around the device. If the leaked images turn out to be genuine, we assume that Galaxy S5 will not be a major different approach from company's Galaxy S family design. The supposed leaked image also suggests the Galaxy S5 will embrace a physical button on the front panel. Particularly, the forum member notes the new TouchWiz is not a major renovation from the company's earlier version.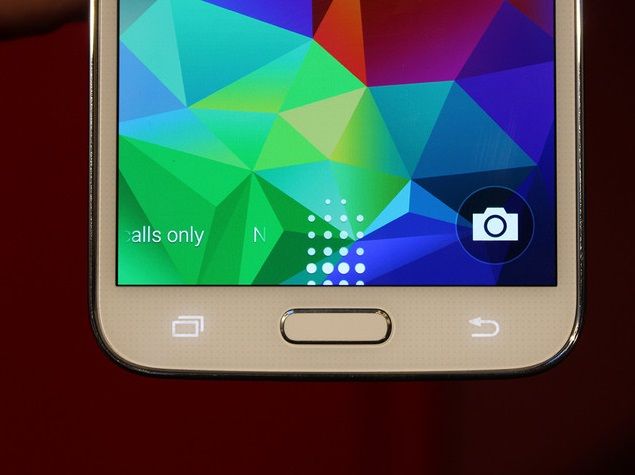 The member has also detailed a few of the expected features such as fingerprint scanner. The forum member claims that the supposed fingerprint scanner feature will necessitate the user to swipe eight times on the home button scanner to register it, and that the Galaxy S5 can register up to three different fingerprints at a time.
In additional, the forum member has claimed that the scanner on the Galaxy S5 can be used with PayPal for approval payments for products within the browser. Other features said to arrive on the Galaxy S5 include a new heart rate sensor that is now said to be included in the device's S Health app.
About the camera on the Galaxy S5, the forum member comments that the device houses a 16-megapixel rear camera, which is very much in-line with earlier leaks. The device is also said to come with IP67 dust and water resistance, which should make the Galaxy S5 quite waterproof, like the recently uncovered Xperia Z2.
Previously believed specifications of the Galaxy S5 include a 5.24-inch AMOLED screen with a QHD (2560 x 1440 pixels) resolution; two storage variants- 32GB/64GB; two processor variants - Exynos 6 and Snapdragon 805, and a 3200mAh battery. The optics rumoured for the Galaxy S5 included a 3.2-megapixel front-facing shooter.