The best Smartphone has come a long way. Apple has changed their product into a gadget with the best possible design and features. Have a look:
·
A7chip that has a 64-bit architecture.
·
A camera which is better and faster.
·
Equipped with an Fingerprint sensor that adds a new level to your Security.
·
Comes with a best operating system that's built and designed exclusively for 64 bit.
To say all of those features make the iPhone a Smartphone that's in advance of its time is an irony. There's absolutely no doubt, it leads the best Smartphone league. This is the day. I'm uncovering few tips and tricks to raise up your iOS 7 and iPhone 5s experience to the next level.
26 Tips for iOS 7 and iPhone 5s You Should Not Overlook.
Now you can share multiple photos
Tip #1
Tap multiple Photos to share them all at once with the help of iCloud Photo Sharing.
Tip #2
You can easily shoot panorama photos in any direction you want. From left to right or right to left. All you need to do is just tap the arrow to switch the direction.
Tip #3
You can capture multiple shots of the action - for as long as you hold down the button – it clicks 10 photos per second. And real-time analysis suggests you the best photos of the bouquet.
FACETIME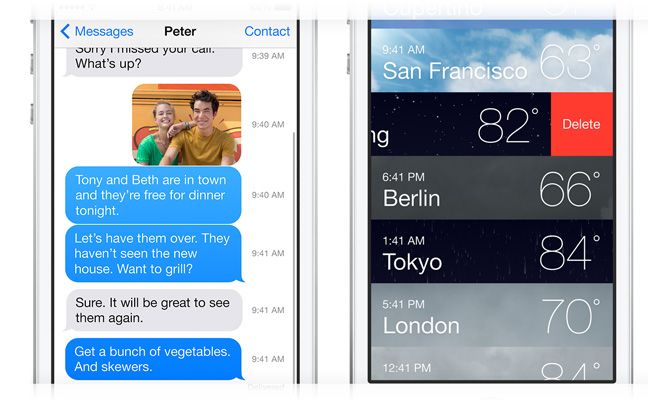 Tip #4
Now you can
view timestamps of your messages just by touching & dragging message bubbles to the left.
Tip #5
You can v
iew all your locations by pinching to see a collapsed view. To rearrange locations, just drag them where you want. You can swipe from right to left on a location to delete it.
Tip #6
You can make audio-only FaceTime calls.All you need to do is to tap the phone icon in the FaceTime section, On your contact's card.
SWIPE GESTURES
Tip #7
M
erely swipe from right to left on messages in your inbox to rapidly delete them.
Tip #8
In order t
o go back, just swipe from left to right from the edge of the screen.
Tip #9
To open Spotlight search, swipe down from anywhere on the Home screen. Then just type in what you're looking for to rapidly find it on your iPhone.
SIRI
Tip #10
Tell Siri about your all the relationships, such as "Jessie is my Mom" or "James is my Brother." Then you can say "Text my Mom" or "Call my Brother" and then Siri can do that for you.
Tip #11
Enter your work and home addresses in your Contacts. So that way, Siri can remind you to do stuffs when you arrive or leave at either place.
You can Even change the way Siri pronounces a name
Tip #12
If Siri mispronounces a name, just say "that's not how you pronounce that." Siri will request you for the accurate pronunciation, then say the name back to you 3 different ways so you can choose the one which is more accurate.
CALENDAR
Tip # 13
View your calendar by list, day, or month. change to landscape view to see full 5 days.
Tip #14
Tap the month name in the left corner to change to month or year views. In Day view, you are able to swipe the week bar at the top to jump to days in the previous or next week.
Search for specific events
Tip #15
You can also t
ap the search icon for a list view of every event in your calendar.


MUSIC

Tip #16
In the Music app, Click on Playlists, then click Add Playlist and give it a name. Now tap any song or video to add it to the playlist. You can add entire albums, or all songs, or individual songs, or even by an artist.
Tip #17
In order t
o create a station in iTunes Radio, Click the + icon beneath My Stations and look for an artist, genre, or a song. Or decide from over 250 genre-focused or DJ-curated stations.
Tip #18
E
liminate or add new stations to your My Stations list by taping on Edit and the - symbol to delete stations or the + symbol to add them.
Buy songs from iTunes Radio
Tip #19
Tap Buy on a song that's currently playing or one in your History or Wish List, and it downloads immediately from iTunes to your library.
Tip # 20
While browsing your music album, switching to landscape view displays a mosaic of your album covers. Swipe to scroll, pinch to zoom in and out, and click to play.
MAIL

Tip #21
When you're composing an email, touch and hold in the message to see the "Select, Select All" menu. Click the arrow and select "Insert Photo or Video." Now you can select a photo or video to attach from your Camera Roll, albums, or shared streams.
Tip #22
You can delete or move messages in batches. From your inbox, tap Edit, select the messages you want to organize, then tap Trash or Move.
Tip #23
Touch and hold the Compose button to switch to your list of saved message drafts.
SAFARI
Tip #24
Sign in once under Settings, and you can tweet or update your Facebook status directly from Safari, Photos, Camera, and Maps. Or ask Siri to do it for you.
Tip #25
Drag and drop to rearrange your tabs. To close tabs, tap the X or just swipe them off the screen.
Tip #26
Quickly visit your favorite websites by creating web clips for them on your Home screen. Visit the site and tap the Share button. Then select "Add to Home Screen."